The NWBA office is part of a shared resource centre near Wigan. Our normal office hours are Monday to Thursday 9.30 am to 1.30 pm. Our postal address is:

North Western Baptist Association
The Resource Centre
Fleet Street
Wigan
WN5 0DS

Telephone 01942 221595

Office email admin@nwba.org.uk


Regional Minister

Our Regional Minister, Revd Phil Jump can be contacted by email or phone
email: phil@nwba.org.uk
Tel: 07754 599298

Transitional Regional Minister

Tim Presswood can be contacted by email
tim@nwba.org.uk

Other NWBA Team members and officers can be contacted through the office.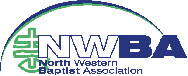 click here for more information on this Church life resource